Your Rack against the Wall? Yes!
Try this Middle Atlantic WR-series Roll-out rack  It  lets you put your rack up against the wall, but roll the entire assembly out and turn the back side around for access:
The WR Series enclosure is factory-assembled in its own host enclosure and allows entire bays of equipment to be placed up against walls or back-to-back, thereby putting an end to the dilemma posed by space-limiting environments. That translates into a savings of six square feet of floor space per rack!
Gain unrestricted access to equipment and cabling without the need for tracks and stands. Ideal for environments that require equipment bays to be placed up against walls or back to back, the award winning WR allows entire bays of equipment to roll out and rotate for service and installation flexibility.
Slides out and rotates 60°, requiring no additional accessories
Available in 44 and 37 space rack frame heights
Effective cable management system provided
Knockouts provided for cable pass-through and ganging multiple racks
Standard front and rear 11-gauge, 10-32 threaded rackrail with marked rackspace increments
Slide out rotating rack system for millwork and in-wall available
Use the Contact Page link below to get more details and pricing.  Let us know how many rack-spaces or inches of room you need.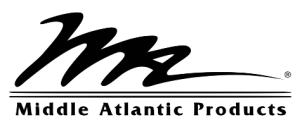 Middle Atlantic is well known for rack accessories like drawers and fixed or sliding shelves to hold VTRs and VCRs or other equipment.
Middle Atlantic also has several lines of furniture applicable to Moving Image Tools and Technology:
We maintain relationships with multiple distributors, and can shop for a wide variety of products for your specific projects or routine applications.
Those products include hard drives recently rated favorably by BackBlaze, a cloud data storage provider from their use in its own servers, or higher-performance drives suitable for HD, 2K and 4K capture and editing, for use in in your current workstations, or in a selection of workstations from Supermicro, HP, Dell and Lenovo.
That's in addition to the desktop and "Big Data" storage and tape archiving found on our "Workflow Tools" page.
We also have access to a wide range of computer peripherals like displays, printers, document and photo scanners, cables and other IT items.
There's more to come on this page so come back and visit soon!
To get more details or to order, click on our Contact Page and let us know how to reach you.
CEO: Ted Langdell
Southeast Rep: Rob Mobley
www.flashscan8.us               209 East 12th Street, Marysville, CA 95901