is pleased to offer special pricing on these complete XenData LTO6 Data Archiving Systems
XENDATA – COMPLETE LTO-6 ARCHIVE SYSTEMS
STARTING AT $8,450 with our Sizzlin' Summer Special Pricing!
XenData's SXL-1 and SXL-2 archive systems include their SX-10 appliance and one or two external IBM LTO-6 drives. XenData's SX-10 manages the LTO drives and connects to a 1 GigE network.

XenData's LTO Digital Video Archives – SXL-1 and SXL-2 – provide seamless integration with CatDV, Marquis Project Parking and CIS Imagen 2.
CatDV Worker Node can be installed for a highly scalable archive system. Plus, Marquis Project Parking can run on the appliance for efficient data flows – saving the cost of an additional server.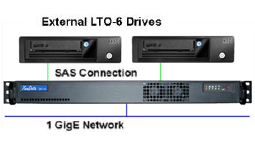 Features and Benefits:
Standard File-Folder Interface

Writes to LTO in LTFS or TAR

Automatic LTO Cartridge Spanning

Unlimited Offline LTO Capacity

CatDV integration and much more
Here's a PDF of the details on this page: XenData-SX-10 and LTO Drives-Summer 2015  Pricing
Here's a link to more details about the SXL-1 and SXL-2: fs8-XenData_SXL-1&2_Data_Sheet-V1-Aug-06-2014
To get more details or to order, click on our Contact Page and mention "XenData Sizzlin' Summer Special."  Limited time offer.
CEO: Ted Langdell
www.flashscan8.us               209 East 12th Street, Marysville, CA 95901