Media Management and Publishing
There is an insatiable demand for high quality media across virtually every industry today. The proliferation of distribution channels, catalyzed by the internet and social media, is causing an explosion of content. At the same time new (and larger) formats are constantly being developed.
$8,000 per media professional wasted each year
Organizations waste significant time and money organizing, searching for, then often failing to find their media assets – especially where teams are not in the same location. With ever increasing pressure on budgets, being able to store, find and repurpose existing media is critical. Research estimates that $8,000 per year is wasted per media professional and that more than a third of media searches fail without effective media asset management.
CatDV: find and reuse your media
CatDV tackles all these problems. For companies that create or manage a large volume of digital media—moving image, stills, and documents like PDFs or .doc—CatDV helps teams organize, communicate and collaborate effectively. Its simple, yet powerful tools support some of the world's most sophisticated media workflows and provide the flexibility to work your way. CatDV brings value to single user installations through to large, dispersed teams in the world's largest firms.
Unlike many asset management systems CatDV is easy to learn and deploy, has one of the lowest costs of ownership in its sector, has great support and an unrivaled ability to integrate with other products, platforms, formats, hardware and software.
Ultimately CatDV helps companies find and reuse their media assets, helps teams to collaborate and to get more done, saving both time and money.
Benefits
You can have confidence in CatDV as the right solution for your media workflow:
Power:
sophisticated logging and organization
find and reuse your media
automate your workflows
enable team collaboration
scales to millions of assets
Simplicity:
easy to use
easy to configure
low training costs
low deployment costs
Flexibility:
native file handling (MXF, RED etc)
deployment options: including cloud
mac, Windows, web and iOS
many storage and archive partners
multiple APIs for seamless integration
CatDV can grow with you
Safety:
track record since 2000
1000s of satisfied users
unrivaled technical support
Typical Workflows
We like to think CatDV has a unique mix of flexibility  power, simplicity and cost. As a result there's no such thing as a typical deployment. This section describes some workflows that CatDV can easily support:
A front end to your SAN and archive
CatDV makes browsing the content of your storage a breeze whether on-line, off-line, near-line or archived. Searching media could previously have taken hours or days, with CatDV finding media takes seconds.
Logging & Tagging
CatDV's configurable Verbatim Logger is a fast and intuitive way of logging footage, even for new CatDV users. Notes, subclips, in and out points and markers can be created on the fly and playback controls are completely configurable. Flexible data types (radio buttons, check boxes, heirarchical lists) make the entry of even complex metadata fast.
Review and Approval
CatDV has been used on many prestigious products as a review and approval tool. Directorial review notes from screenings can be captured in CatDV and shared word-for-word with the post-production teams directly into the NLE or via CatDV clients (web or desktop). Editors, compositors, audio engineers and finishers can then update sequence notes to show that action has been taken. A recent, major TV production used CatDV for multiple levels of review from story boards through to playout and took advantage of the Production Blog and messaging tool. Take a look at this customer story for more details
Transcoding & Proxy Generation
With the plethora of cameras and format on the market today, to say nothing of user created content, transcoding is a critical issue for any organisation with lots of content. CatDV's has powerful transcode capabilities, both in the desktop clients and in the CatDV Worker (the automation engine). CatDV can also be configured to work with other hardware or software transcoders.
Production Management
Any production that intends to reuse footage has a media asset management challenge. CatDV's has helped many productions plan and track the status of their productions. Every element of the production can be tracked by CatDV providing an invaluable aid to planning whether on location or during post production. Knowing the timeplan, actual dates, status and owner for every asset makes productions faster and more efficient. Take a look at this customer story for more details
Video / Photo / Audio Archive
CatDV at its core is a powerful database for media assets. Any organisation that creates or commissions content for broadcast on any channel (TV, film, web, internal) will benefit from the ability to find and reuse content. There are a range of options available to share CatDV functions throughout organisations, from the powerful desktop client, through simpler web clients to completely tailored web interfaces using our flexible APIs. Take a look at this customer story for more details.
Print
A number of our customers use CatDV's print functions as part of their paper based review and approvals process. This is particularly relevant for stills libraries but is also been used for video using the filmstrip views.
Universities, Libraries and Archives, Production Companies, Networks, Businesses use CatDV to Manage, Find, Make Media Accessible and Saleable:
You'll be in good company using CatDV: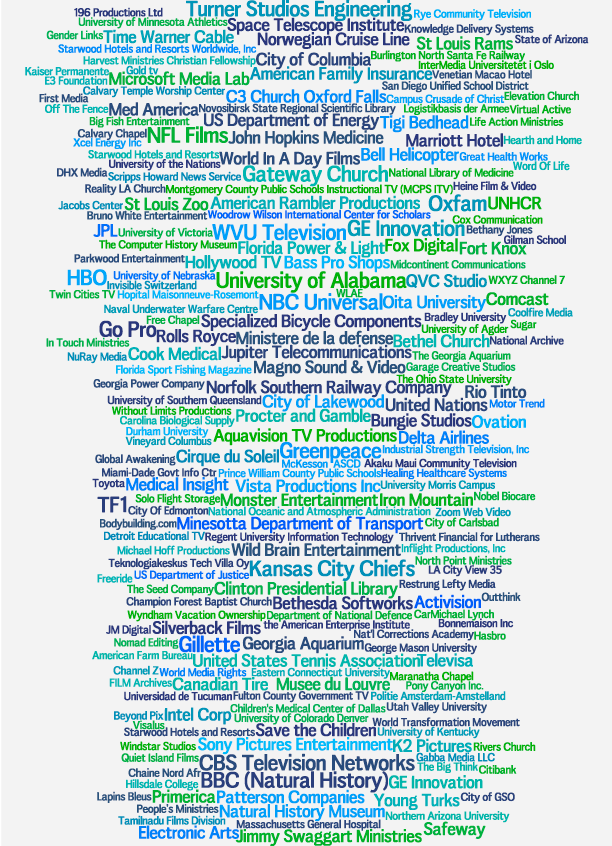 Discover more about CatDV here on our "CatDV: An Introduction" page!
Free trial software is available, along with full trial licenses. See "CatDV: An Introduction" page
To get more details or to order, click on our Contact Page and let us know how to reach you.
CEO: Ted Langdell
Southeast Rep: Rob Mobley
www.flashscan8.us               209 East 12th Street, Marysville, CA 95901